After going for my traditional Sunday morning walk/grocery shopping with my mum, we decided we deserved some pancakes. Not just any kind, mind you, these were

Chocolate Pancakes

We started off with a pancake mix I had bought a few weeks ago, but never used.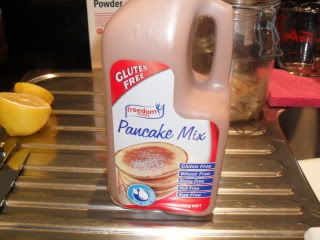 Then we added water, as the mix suggested, and added some cocoa powder. And half an hour later (we made a whole batch, warming them in the oven so we could eat together) was our brunch of chocolate pancakes!!

Voila!!

They were tiny, and we had about six mini ones each. The pancakes weren't too filling, or sweet, and tasted like chocolate souffle!!

YUM.

After indulging our tummies, we are going to go on another walk into the city. It's really nice weather, so there's no use wasting it!!

:)