Just thought I'd do a quick post about my dinner.

I've had a craving for mexican food for a while, so mum and I decided to use the Healthy Fiesta burrito kit by Old el Paso. We used chickpeas instead of meat, and it turned out great.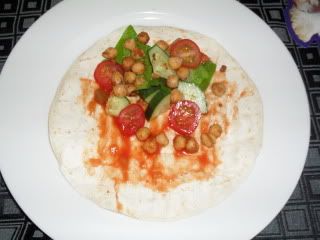 I had two of these.

I feel as though I've had a really indulgent day today. First pancakes, then gelato when we were in the city, now burritos. It's as though I can't really justify it to myself. I know that these things were quite healthy, but my stomach and ed don't seem to be thanking me.

I don't know, it's as if whatever I eat is wrong somehow.

Sorry about making the post a downer. I'm off to the gym to try my new workout ball that I got today

:)