Hello there.

Yesterday was major, even though I only did one thing: Literature exam. It was so stressful, but I actually managed to walk out of there feeling okay about it.

Here was my pre-exam brain food: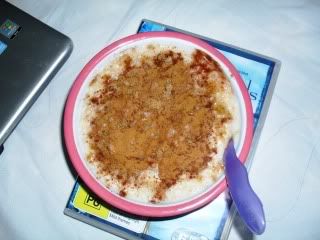 And of course, the exam booklet, which I got to take home.

After my exam, mum took me to go see 'The Time Traveller's Wife'. It was really good, they stuck to the book pretty well, and it was so sad, but I already knew that it would be, because I read the book recently for the first time. I really reccommend this movie, go see it!!

Today I'm just having a day off,
no studying
, I will probably go and check the mail at our PO Box later, we'll see how everything goes.
Oh and by the way, go check out the fabulous giveaway
Haylee
is having!! It's so good, and open to everyone!! Check it out by clicking Haylee's name.
Have a great day, lovies!!

:)