Only a short post today, because my Philosophy books are staring at me.

:(

Today I had waffles for lunch.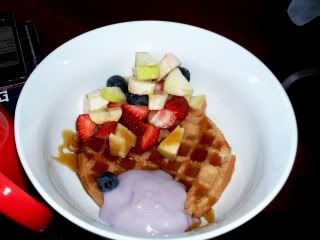 And some of this.

It's weird, ED loves and hates this stuff. Loves it because it fills me up, and the calories, hates it because he thinks it will make me fat because of the chemicals and such. Blah.

I had yabc this morning again, seriously tiring. All I really want to do right now is sleep, but I have to study. It wasn't just physically tiring, but emotionally as well. One of the girls there has really been annoying me lately, for various reasons, and today one of the other girls, who is also a friend of mine, said to me during break "are you actually going to eat??" Not everyone was eating, and I prefer to wait for my lunch which was in 30 mins. But her comment upset me. That and she also said "Gain some weight, I don't like being able to feel people's bones." Err, okay, sure. :S It made me feel self conscious for the rest of the class.

Anyway, study time now lovies.

<3