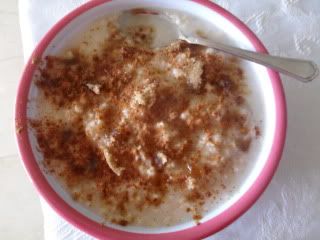 Good afternoon, lovelies. I find it funny saying that when there is a photo of porridge above this sentence, but it is actually afternoon here. Above is what I had for breakfast this morning, after a nice sleep in and leisurely cycle on the exercise bike. 1/2 cup of oats, soaked in 1.5 cups of water, with sprinklings of

cinnamon

,

mixed spice

and 1 tsp of

brown sugar

.

The mixed spice has cinnamon in it already, but not enough for my liking, hence the extra cinnamon.
I have Wednesdays off, so today I managed to sleep in until 9am, before my usual exercise routine, then home for the oats above. After that I caught up on some blogs, then started studying for a International Studies SAC that I have tomorrow :\

I went for a nice walk up to the grocery store before lunch time, in which I bought nothing for myself!! Only groceries for my grandparents. I had two lovely cups of
lemon and ginger tea
after lunch, and treated myself to two
coconut-rice bites
.
I watched the Flinstones and the Jetsons this morning, which made my day :)

Have a lovely rest of the day.

<3