Hello!!

Since the lovely Eliza and Karina said they would like to see my media work, I thought I'd start off by posting a couple of the photos in this post. These are the ones that they put on display, there was about 12 in total in the collection. They're based on a poem I wrote, my friend was the model.

Last night I was looking in the programme, and under 'highly commended' students, I couldn't find my name!! For a while I thought maybe I actually hadn't won an award. But then the presenter explained that the piece of paper attached to the programme (the one I was reading) was students who were highly commended on their work, but didn't win an award. Then I looked again, and I realized that I didn't just win any award, but I won the award for 'Best photography production'!!!!

I was so happy and suprised!!

Here's my award.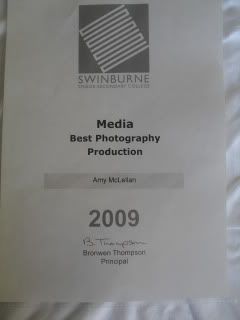 I won a mini external hard drive.

Tonight I'm having chickpea curry for dinner, I can't wait.

:D

Love you all.