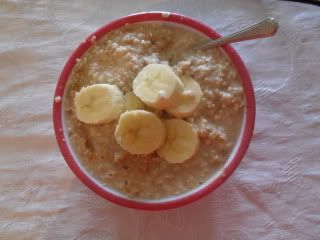 This morning I had oats with layered banana, inspired by the lovely Eliza.

:)

Oats, cooked in water, with layers of

banana

, and pinches of

cinnamon and brown sugar.
It was yummy, and started my day off well. Today will probably be quite busy, because tonight is my grandma's 60th birthday party, so today I'm helping her get ready for it, buying stuff, etc. That's why I decided to blog this morning, because I probably won't get any other time throughout the day.

Ooh, something exciting that I realised today:

In 24 days (pretty much), it will be my 18th birthday.

[26th October]

I'm so excited!! It's come so quickly, I can't believe that I'm actually going to be eighteen soon. In a way, I almost don't want to be, I'm kind of reluctant to leave childhood behind. Everything in childhood is safe to me, so it will be a big step to leave it all, and become an "adult".

I'm wearing a new dress tonight, and for some reason that freaks me out. I'm seeing lots of people I haven't seen since July, and I'm worried about the comments they'll make. I hate when people comment on my body, it makes me feel so self-conscious, I hate it. I almost just want to wear my baggy jumper and pyjama pants, I hate that in this dress I will be so visible, that my body will be so obvious.

Well, anyway, sorry for leaving that on a bad note.

I hope you have a lovely day.

x