Good Morning.

Last night, mum and I went for a late night walk up to the supermarket, because she wanted some ice cream, and ended up coming back with more than just that ;)

Here's two of the things we got; Sultana Oat Crisp Cereal, and Coconut + Pink Guava icypoles.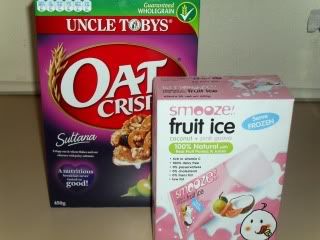 When we got back, we watched Nick and Nora's Infinite Playlist.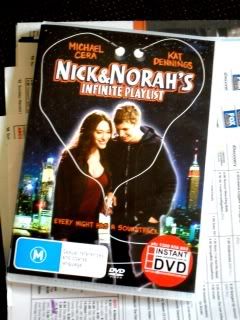 I needed to buy some cold cereal, because it's getting too hot over here for oats everyday (I know, sadness!!). It's going to be a challenge eating cereal, but I've decided that on my exam days I will have porridge, just because I know it holds me over well for long periods, and I need that when I'm doing exams. But after that, sayonara oats (for now at least)!! :( What will oats and bows be without ze oats?? At least my cereal has oat clusters :P See, I bet you knew I couldn't leave oats behind completely.

Tomorrow morning I have a doctor's appointment, which my mum made this morning, for a few reasons. Last night, when I was in bed, my chest was hurting quite a bit, and I was finding it hard to breathe. I wasn't sure whether it was because of exam anxiety or something like that, but I couldn't get to sleep for ages, because I was so scared. Eventually I woke my mum up, and she came and lay next to me, talking to me until we both fell asleep. I woke up at about 6am, and have only had around five hours, but I can't go back to sleep!! Anyway, another reason for the appointment is that earlier this morning, when mum had already left for work, I walked into the kitchen to get my water bottle out of the freezer (yes, it is that hot here), and as I paused in the doorway, I had to hold on to it with both hands. You see, I always get dizziness in the summer, I have all my life, but lately I find that whenever I stand up I get super dizzy. I've kind of gotten used to it, but this time I freaked out, because as I said, I had to hold on to the door with both hands, and everything went black, and I almost blacked out. :S So mum thought it was probably best to see the doctor tomorrow.

If you've gotten through all of that, you're a superstar. I'm a bit nervous for my exam this afternoon, but I'm trying not to think about it, seeing as I know this will be my worst subject, as long as I pass, it's okay.

Have a nice rest of the day, girls.

<3